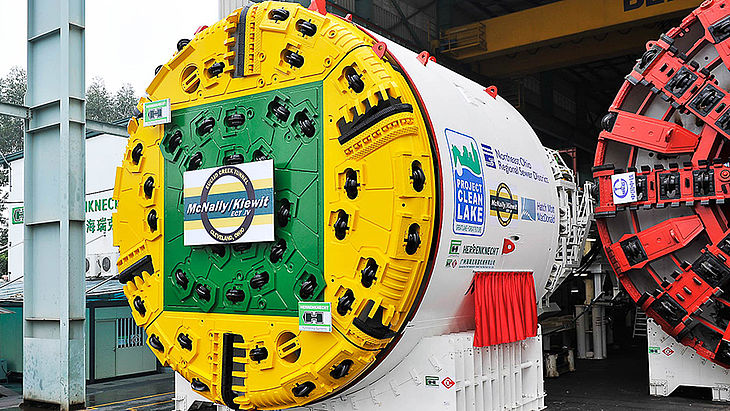 Project Clean Lake Tunnels
"Project Clean Lake" – that's what the wastewater authority of Cleveland and the surrounding area, the Northeast Ohio Regional Sewer District, calls a large-scale project currently running in Ohio. The goal: to improve the water quality in Lake Erie and the surroundings and to place the sewage system as a whole on a future-proof footing.
In heavy rainfall, the combined sewage and stormwater sewers are often overloaded in Cleveland. The so-called CSOs (Combined Sewer Overflows) are therefore the rule. Up to 60 times a year, wastewater is then discharged untreated into Lake Erie and Euclid Creek. "Project Clean Lake" is designed to prevent that in future.
Euclid Creek Tunnel
The Euclid Creek Tunnel is the first phase of the large-scale project. It will include a total of seven new tunnels as well as new and upgraded wastewater treatment plants and pumping stations. The Euclid Creek Tunnel alone will be able to store nearly 230 million liters of rainwater and sewage and convey it to a wastewater treatment plant.
From the launch shaft in the suburb of Bathenahl in the northeast of Cleveland, from August 2012 the Herrenknecht Single Shield TBM bored its way through the ground for the construction of the 5.4 kilometer tunnel. At a depth of up to 60 meters, the advance took the machine below Lake Erie over a distance of about 1 kilometer. After best performances of up to 53.34 meters a day and up to 227.08 meters a week, just a year after the start of tunnelling "Mackenzie" reached the target shaft in the suburb of Euclid on August 21, 2013.
Dugway Storage Tunnel
In March 2016, "Mackenzie" celebrated a comeback: the Herrenknecht Single Shield TBM began the drive for the approximately 4.5 kilometer long Dugway Storage Tunnel, the second "Project Clean Lake" tunnel. For this redeployment, the machine was purchased by the contractor and, with the support of Herrenknecht, refurbished and slightly modified. Lifting the reassembled machine into the launch shaft after rebuilding was done in as few individual parts as possible. The shield was lowered into the launch shaft in one piece, where the cutting wheel and back-up were added. For about a year, the Single Shield dug its way through the Chagrin Shale, a shale formation in the underground of Ohio. In March 2017 came the final breakthrough. As a result, the rainwater and sewage storage capacity increased to just under 443 million liters.
Doan Valley Tunnel
With the completion of the Doan Valley Tunnel, planned for the year 2021, the "Project Clean Lake" will be half completed. This third tunnel of the major project spans a length of 3 kilometers and is being excavated by another Herrenknecht Single Shield TBM. The TBM with a diameter of 6,275 mm is slightly smaller and lighter than "Mackenzie". It is being shipped from Rotterdam to Cleveland and commences the drive to build the Doan Valley Tunnel in early 2019.