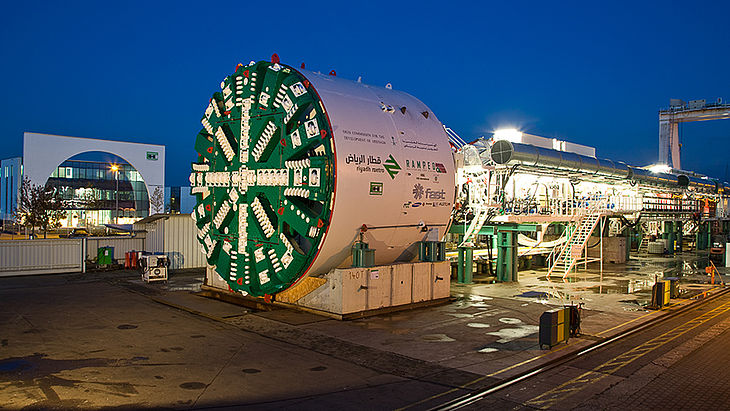 Riyadh Metro
Herrenknecht has supplied six tunnel boring machines for one of the largest current metro projects in the world: the subway in the Saudi Arabian capital Riyadh will have six lines and a total length of 176 kilometers.
For the construction of around 16.2 kilometers of tunnel for Line 1 (the Blue Line) running from north to south, Herrenknecht won the contract for four Multi-mode TBMs. To safely and reliably handle the complex geological conditions beneath the city of 6.5 million residents and to ensure rapid progress of the construction work, the large-diameter machines (Ø 10,250mm) can be operated in both closed EPB mode and in open mode.
The concrete segments for lining the Line 1 tunnels were manufactured in a plant that was planned, set up and put into operation entirely by Herrenknecht Formwork. The scope of supply included the Segment Documentation System SDS, which records all data from segment production, storage, logistics and use and enables comprehensive process control and quality assurance.
Two EPB Shields from Herrenknecht have driven a total of about 12 kilometers of tunnel for Line 5 (the Green Line). Herrenknecht presented the first of the two 9.7 meter machines to the customer for factory acceptance in October 2014, in April and June 2015 tunnelling began at the jobsite. After outstanding top performances of up to 260 meters per week, both machines reached their target only a year later.
As a result, as of October 2016 around 28 kilometers of tunnel for the Riyadh Metro have been completed using Herrenknecht tunnelling technology.