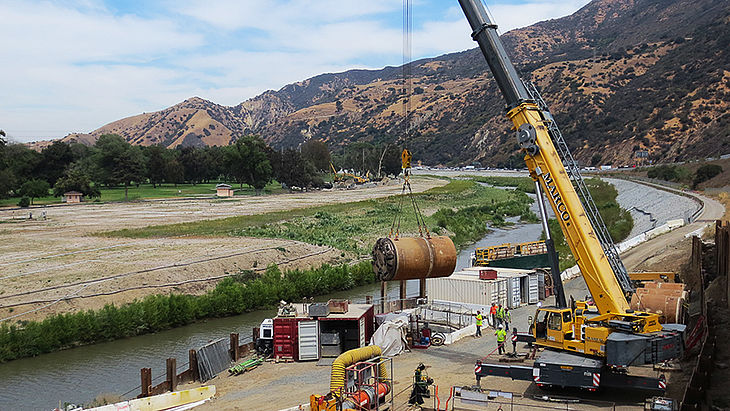 SARI Relocation Project
On course with a curve
Built in the 70's, over the years parts of the Santa Ana River Interceptor (SARI) Line sewer had become exposed due to environmental influences. Partially running under the riverbed of the Santa Ana River and once covered with about 6 meters of soil, erosion resulted in the sewer being exposed to the elements in some places. A new tunnel alignment was needed to ensure the long-term integrity of the sewer. A total of 1,189 meters of the approximately 37 kilometer long pipeline therefore had to be replaced with a new sewer not far from the old SARI Line.
Conventionally six classical straight drives were initially planned for the implementation of this project. However, another technique little known in the region could save time and money: instead of six straight drives, two straight and two curved drives could also be carried out. The special feature was the planned "S" curve – previously there had only been one in the whole of North America. The "S" curve on the SARI Line would thus be only the second and simultaneously the longest in all of North America.
With a Herrenknecht AVND 2000AB and a navigation system supplied by VMT the plan was implemented. It made the digging of several shafts unnecessary and reduced the necessary transport of equipment. The first two drives with lengths of 189 and 332 meters were conventionally bored straight ahead. The third and fourth, on the other hand, were curved. With a length of 478 meters the longest section was also the most complex: the Herrenknecht machine's position in the soil of California was constantly checked and corrected. The final drive with a standard curve and a length of 189 meters then followed. In the end, the deviation from the original course paid off and the project was completed 30 days ahead of schedule.
The Santa Ana River Interceptor Line extends from the Prado Dam to the Orange County sewage treatment plant. With the renewed section the sewer is not only a record holder, but also ready for the future.