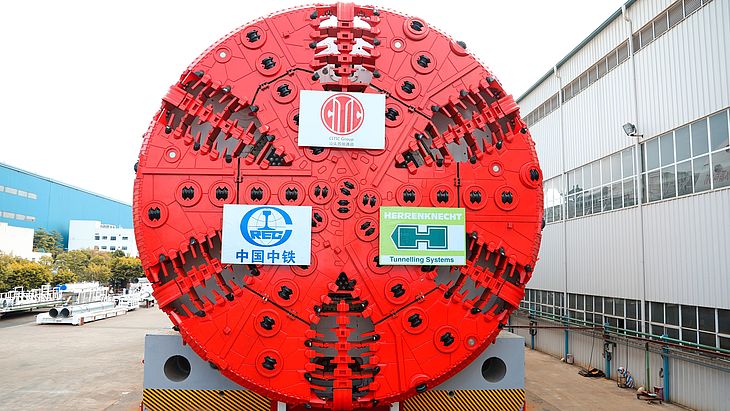 Shantou Su'Ai Sub-sea Tunnel East
The Shantou Su'Ai Sub-sea Tunnel is a new high-performance road tunnel in the Chinese port city of Shantou. With three lanes per tunnel tube it significantly improves the connection between the north and the south of the city. An estuary runs through the middle of the 5 million inhabitant metropolis into the interior and separates the districts of Longhu, Junping, Haojiang and Chaoyang, which until now have only been connected with each other in a few places.
3,047 meters of the 6,680 meter long Shantou Su'Ai Sub-sea Tunnel are being excavated by means of mechanized tunnelling using two tunnel boring machines (TBMs). Under the direction of contractor China Railway Tunnel Group Co., Ltd, on December 26, 2017 a giant Herrenknecht Mixshield with a diameter of 14,960 mm began the drive of the eastern tunnel section, which runs entirely under the South China Sea.
To enable safe and efficient tunnelling in this challenging terrain with overburdens of only 8 to 16 meters, the 4,600 tonne Mixshield S-1046 is equipped with a cutting wheel accessible under atmospheric pressure for rapid tool changes. In some places, granite breaking in from deeper layers of rock is expected. The equipment therefore also includes a Sonic Softground Probing (SSP) system, which allows early detection of obstacles or difficult geological zones up to 40 meters away.
The Herrenknecht Mixshield attracted attention in public in January 2019. The construction site reported a top performance of 16 meters or 8 rings per day at a rock with strengths of more than 210 megapascal. By February 2019, within less than a year, the XXL Mixshield already completed more than 560 meters of tunnel. Until the successful completion of the tunneling in May 2020, the miners had increased their performance to up to 24 meters per day.