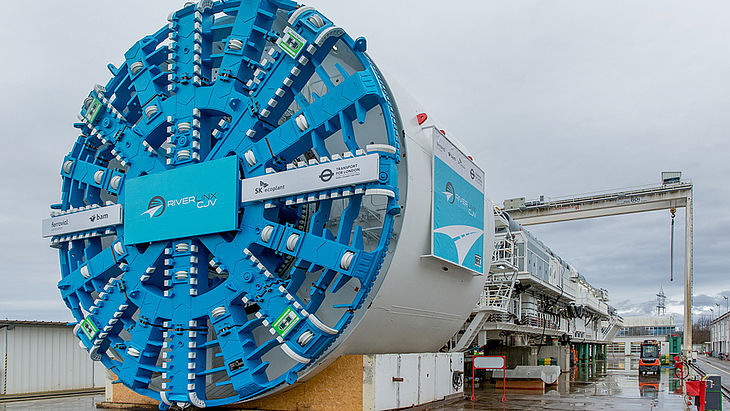 Silvertown Tunnel
Transport for London (TfL) is building a new 1.4 km twin-bore road tunnel under the River Thames in East London. The Silvertown Tunnel will link the A1020 road in Silvertown, Newham (north side), with the A102 road on the Greenwich Peninsula (south side).
TfL and Riverlinx SPV (special purpose vehicle) have contracted Riverlinx CJV (construction joint venture), comprising BAM Nuttall, Ferrovial Construction and SK Ecoplant, to carry out the design and construction works.
Herrenknecht is supplying the 11.87 m diameter EPB Shield, the largest TBM ever to be used in the UK. The TBM is 82 meters long and weighs 2,300 tonne.
TBMs are often given female names before they start work – the patron saint of miners and tunnellers is Saint Barbara. The Silvertown Tunnel TBM is now named 'Jill' after Jill Viner, who in 1974 became London Transport's first female employee to drive a London bus.
TBM Jill passed the acceptance tests at the Herrenknecht factory in December 2021. It is assembled in the Silvertown launch chamber ahead of southbound tunnelling starting in August 2022.
Herrenknecht Formwork delivered segment moulds to Banagher Precast Concrete, Ireland, which is producing the segments to line the tunnel.
When TBM Jill reaches the Greenwich rotation and relaunch chamber, it will turn 180 degrees to return for the northbound tunnel and the retrieval cham-ber in Silvertown where it will be disassembled. Global Tunnelling Experts and Herrenknecht are supporting and delivering the turning of the machine, which will require close collaboration and some special steelworks.
The tunnels will run underneath the riverbed. They will have two lanes in each direction: one for buses, coaches and heavy goods vehicles; and the other for cars. For the safety of tunnel users, there will also be eight much smaller cross passages.
The H+E Logistik machine belt and tunnel belt will transport around 600,000 cubic meters of excavated materials to barges. Using the river will minimize the effects of construction traffic on local roads.
The new Silvertown Tunnel will help to reduce chronic congestion in the existing Victorian-built Blackwall Tunnel. The additional capacity will improve traffic flows between Docklands / East London and Southeast London, reduce air pollution, and enable a major expansion of cross-river bus services. It will be the first new road tunnel east of Tower Bridge since the Eastern Dartford Tunnel in 1980.