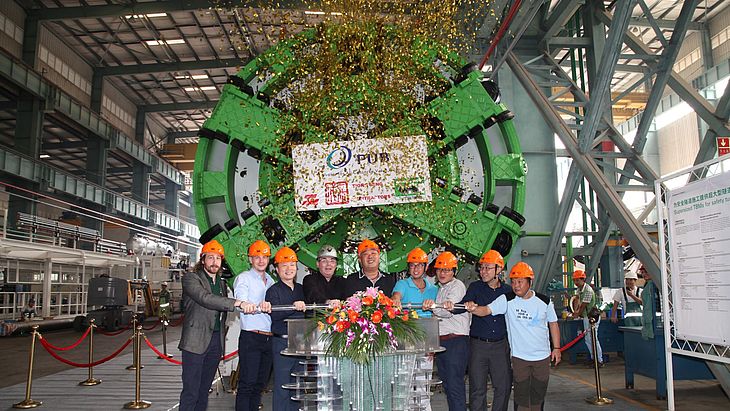 Stamford Diversion Canal
With just under six million inhabitants in an area of only 700 square kilometers, Singapore is the third most densely populated country in the world. The Herrenknecht EPB Shield S-975 bores two 1,000 meter long drainage tunnels there. The twin tunnels in the very heart of Singapore complement the existing five kilometer long Stamford Canal.
Due to the limited space on the construction site, during design already attention is paid to making the machine as compact as possible. The individual parts of the EPB Shield arrive just-in-time at the jobsite. Component by component the TBM is carefully lowered into the launch shaft with a diameter of 24 meters. After assembly, the EPB Shield is ready for its tunnel mission.
On completion of the first tunnel, the machine is returned to its starting point in the launch shaft, where it begins excavation of the second tunnel tube. With a drive power of 630 kilowatts, the TBM works its way through complex ground conditions (highly weathered granite) and crosses under the busy inner city of the metropolis of Singapore with small overburdens. Additional challenges are posed by the short distance between the two tunnels and a tight curve radius of 180 meters in the course of the alignment. Precision and intricate work are called for here: with steering articulation, the curve drive is continuously adjusted so that deviations are always within the tolerance. In this way an advance with top performances of up to 18 meters per day and 91 meters per week are possible.
The final breakthrough takes place in December 2017. The new tunnels expand the existing drainage system and will relieve the Singapore River long-term, for example during heavy rain. This greatly reduces the risk of flooding in the city-state.