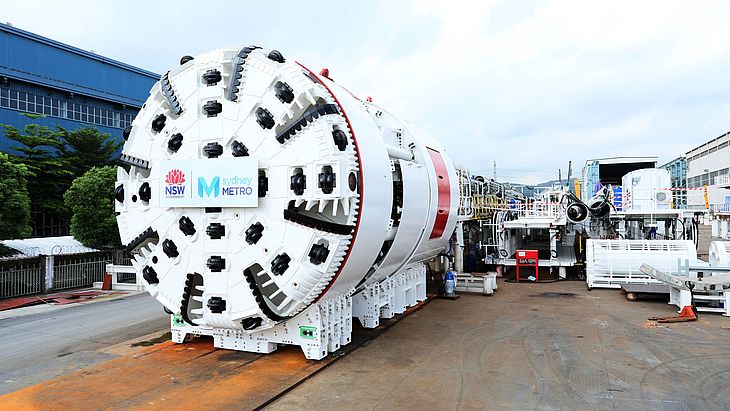 Sydney Metro
The city of Sydney is sustainably expanding its public transport system for the future. The first phase of metro construction in the state capital of New South Wales, "Sydney Metro Northwest", is nearing completion. 15 kilometers of new network line and eight stops have been created. The second phase, "Sydney Metro City & Southwest" – currently the largest transport project on the continent – adds another 15.5 kilometers of twin tubes and six stations to the metro system.
The Phase 2 tunnels, 31 kilometers in total, are being excavated by five Herrenknecht tunnel boring machines (TBMs). Four Double Shield TBMs are excavating the sections north and south of Sydney Harbor. A Mixshield is digging its way under Sydney Harbor – the overburdens are up to 35 meters to the bottom of the harbor and above that a water depth of up to 34 meters.
All of the TBMs are project-specifically adapted to the local conditions. The Double Shield TBM cutterheads are wear-protected and equipped with powerful and resilient tools to optimally remove the highly abrasive Hawkesbury Sandstone. Double Shield TBMs combine the functional principles of Gripper and Single Shield TBMs in one machine. In stable geologies, combining these methods permits the installation of concrete lining segments parallel to the tunnelling, resulting in very high performance rates.
The Mixshield TBM type is optimally suited to the tunnel section under the harbor. With it, heterogeneous geologies such as in Sydney and high water pressures can be mastered safely. The support pressure is managed precisely using an automatically controlled air cushion. Two independent man locks, each with two lock chambers, are installed for safe cutting tool changes.
Tunnelling of the two drive sections south of the harbor from Marrickville to Barangaroo began in late 2018. Slightly offset on parallel tunnel alignments, TBMs "Nancy" and "Mum Shirl" are digging their way northward through the subsoil of Australia's largest and busiest city. The three machines for the northern sections from Chatswood to Blue Point as well as the harbor crossing start their drives in 2019.
Commissioning of the "Sydney Metro City & Southwest" is scheduled for 2024. The inauguration of the "Sydney Metro Northwest" is planned for 2019. The new metro with a capacity of up to 40,000 passengers per hour will be the first in Australia to operate fully automatically.