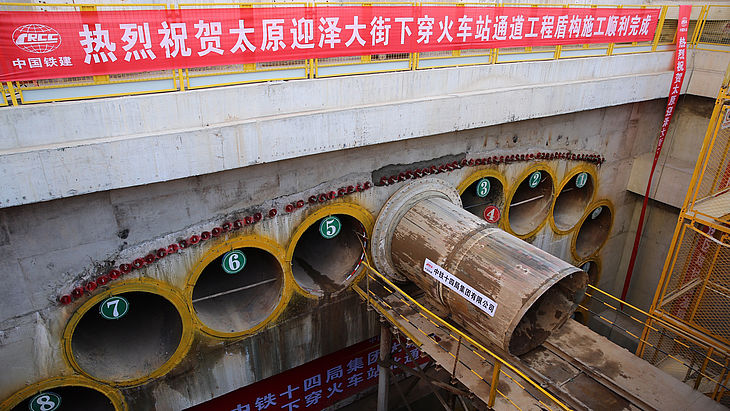 Taiyuan Pipe Arch Project
In Taiyuan, capital of the Chinese province of Shanxi, two new road tunnels under the approximately 100 year old main railway station have been built. To create the new road links, ten tracks had to be crossed under. Taiyuan Railway Station is the city's main artery and is essential for the transportation of coal extracted at this important industrial location in northern China. With around 280 trains and 133,000 passengers per day, it was therefore imperative that ongoing operations were not impaired.
The pipe arch method was used for the crossing beneath the tracks. In two places, a pipe arch with 20 boreholes each was created. Each of the installed pipe strings is 102 meters in length. Herrenknecht supplied two EPB Shields and two MH1600 Partial-face Excavation Machines for this tunnelling work. The EPB machines created the lower boreholes. The Partial-face Excavation Machines were responsible for the upper strands as they do not create overcut (the breakout cross section corresponds to the pipe diameter) and thus lower the risk of settlement.
Driving the tunnels called for maximum precision: the minimum overburden to the track bed was just 2.5 meters, and the pipe arch boreholes were only 16 centimeters apart. The sand and clay ground posed an additional challenge to the site crews, due to the rubble it contained.
The first breakthrough took place on January 27, 2018. By mid-2018 already, more than half of the drill strings were completed. On October 16, 2018, breakthrough was achieved for the 40th and final borehole. Altogether, for the Taiyuan Pipe Arch Project the Herrenknecht tunnel boring machines dug their way through 4,080 meters of ground.