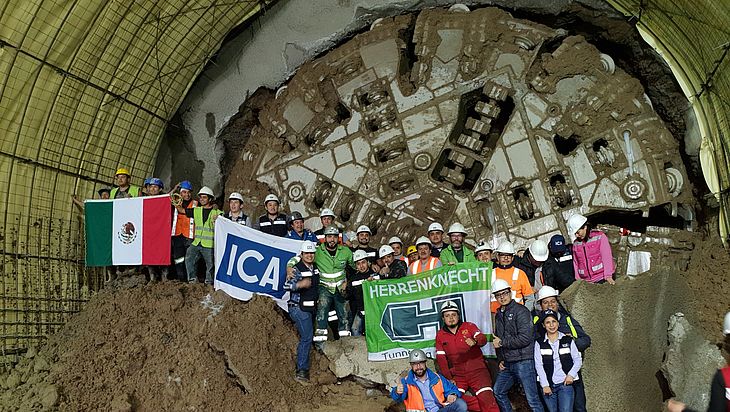 Tren Interurbano Mexico City – Toluca
The new Tren Interurbano Mexico City – Toluca train service links the city of Toluca to the state capital. A large part of the 57.7 kilometer long line runs through the Sierra de las Cruces, a mountain range southwest of Mexico City. There a twin-tube tunnel is being built over a length of 4.7 kilometers.
For the construction of the underground section of the Tren Interurbano, two Herrenknecht Multi-Mode tunnel boring machines (TBMs) were ordered. This special machine type is flexibly designed in terms of support and excavation methods. With relatively short conversion times, the tunnelling mode can be adapted to changing ground conditions, offering maximum safety and flexibility during the entire drive through the heterogeneous Mexican ground. The two borers named "La Marquesa" and "La Mexiquense" each excavated one tunnel tube. All in all, 6,312 segments were installed and 285,000 m³ of excavated material removed before the successful breakthrough in June 2018.
The new train line connects Toluca and Mexico City in just 39 minutes. In addition to the end stations Zinacantepec and Observatory, four additional stations are being built, which are expected to serve around 230,000 passengers per day in the future. As a result, a large proportion of daily traffic will shift from road to rail. Up to 28,000 tonnes of CO2 are expected to be saved.