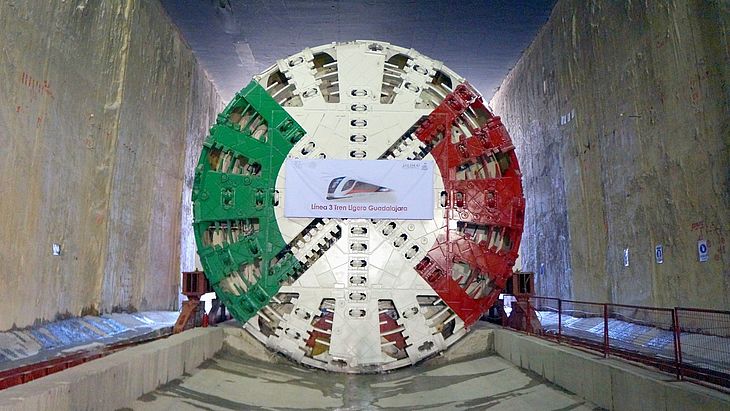 Tren Ligero de Guadalajara
Guadalajara is one of the largest cities in Mexico. Since 1989 already, metro trains have been running in the city of 1.5 million inhabitants. The third line currently being built between Zapopan, Guadalajara, Tlaquepaque and Tonala is 22 kilometers long and, once completed, will serve five underground stations. 233,000 passengers are expected daily.
The 11.5 m diameter Herrenknecht EPB Shield "La Tapatia" dug a 4.5 kilometer long tunnel for the new metro. Prior to that, the tunnel boring machine (TBM) had already been used in Barcelona. For its mission in Mexico, among other things, Herrenknecht equipped it with a new cutting wheel specially tailored to the heterogeneous geology. In July 2016, tunnelling work for the underground section began.
The advance at a depth of 20 to 30 meters was closely monitored. Laser equipment measured buildings along the tunnel alignment with millimeter precision so that any potential effects on the structures from the tunnelling below could be detected immediately. Damage to the historic center of Guadalajara was thus optimally prevented. The successful breakthrough and the completion of the tunnel shell were celebrated in May 2018.