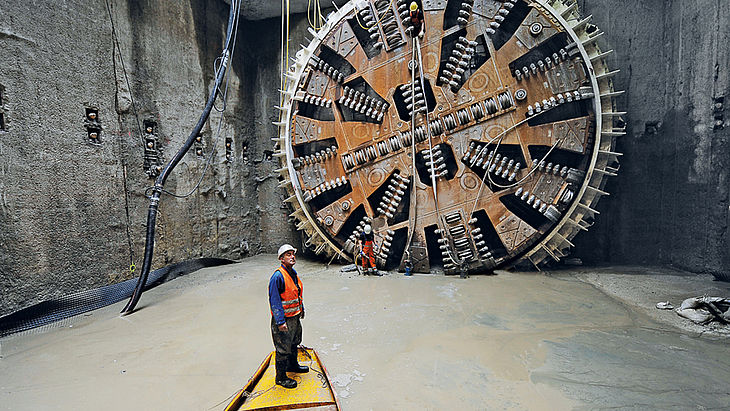 Wehrhahn Line
The Wehrhahn Line is coming! A major project involving lengthy preparation by politicians, administrators, planners and engineers was finally to be realized. Six underground and two above-ground stations are to be completed along a 3.4-kilometer-long tunnel route. The new line will supplement the public transport network ensuring swift connections between the eastern and southern areas of Düsseldorf. As a forward-looking means of public transport, the Wehrhahn Line will set all kinds of new standards as well as relieving public transport services in Düsseldorf.

The Herrenknecht S-491 Mixshield - named "Tuborine" - was to be used for building a tunnel of 2.25 kilometers in length. The S-491 was a giant with a diameter of 9.49 meters, a length of 65 meters and a weight of 1,300 tonnes. The S-491 started tunnelling in March 2010 right on schedule.

Smooth construction was supported by the systems supplied by navigation and survey specialist VMT as well as the separation plant supplied by Herrenknecht. Moulds manufactured by Herrenknecht Formwork were used for producing the concrete segments which were handled by cranes and components from Maschinen- und Stahlbau Dresden (MSD). The tunnel construction companies successfully completed the 1,301 meters of advance made under the first tunnelling section at precisely 11.11 am on September 20, 2010. They reached their target in the Kasernenstraße one month ahead of schedule.
Following dismantling, the Mixshield was transferred to Corneliusplatz to start tunnelling along the "East section" - the second tunnel stretch. On December 14, 2011, the second section, too, was excavated and lined. The Mixshield's working priciple proved best with performances of up to 75 meters per week during the inner-city tunnellig in Düsseldorf with low overburden of only four meters on some sections. 170,000 cubic meters of ground were excavated from underground.
The Wehrhahn Line (German)