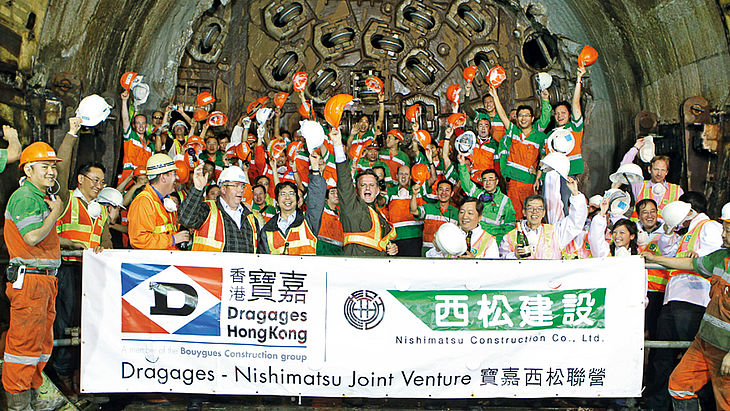 West Drainage Tunnel
To better control the impacts of heavy rain and serious typhoons, Hong Kong developed a flood control program. The "Hong Kong West Drainage Tunnel" was conceptualized in order to direct the huge volume of rainwater via a channel to the sea.
Herrenknecht was commissioned to build two Double Shield TBMs. With diameters of 8.28 and 7.21 meters, respectively, the S-486 and S-487 sister machines were the largest machines of this type ever employed in Hong Kong. They tunnelled through granite and volcanic rock in Hong Kong's underground. The S-486 started tunnelling the 6,600-meter tunnel in April 2009, safely reaching the target shaft on January 17, 2011 after a period of 21 months. The S-487 started tunnelling in June 2009, reaching its destination after 4,000 meters as early as October 2010.
Another part of Hong Kong's flodd protection programm is the tunnel for the "Lai Chi Kok Transfer Scheme" that was produced by a Herrenknecht Mixshield.