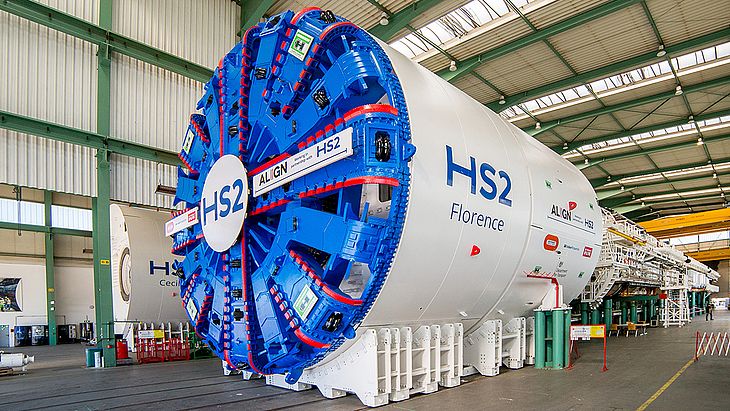 High Speed Two (HS2)
Currently Europe's largest infrastructure project
High Speed Two (HS2) is a high-performance, low-carbon rail link being built between England's North and London. The first section of Britain's new high-speed railway runs from London's Euston station to Birmingham. From the UK's second largest city the line forks and runs north west to Manchester and north east to Leeds, as part of Phase Two. In the future, trains will run along the new line at speeds of up to 360 kilometers per hour – faster than the ICE in Germany or the TGV in France.
To achieve these high speeds, straight lines and modern tunnel structures are needed that pass under towns and cities, hill ranges and other infrastructure. About 100 kilometers of tunnel are planned along the entire route, which are also designed to preserve the natural beauty and biodiversity of the landscape above.
This megaproject is designed to connect eight of Britain's 10 largest cities, while also freeing up space on the existing network to enable more local and regional passenger services, as well as more freight by rail. HS2 trains are also being built to fit existing railway infrastructure, allowing its services to continue serving places not directly on the new high-speed network, including Sheffield, Liverpool, York, Newcastle, Glasgow and Edinburgh.
Herrenknecht delivers eleven tunnel boring machines
The first section is already under construction and will require 50 kilometers of new tunnel. For the 16 kilometer-long Chiltern Tunnel in the county of Buckinghamshire, Herrenknecht supplied the contracting joint venture Align (Bouygues Travaux Publics, Sir Robert McAlpine, VolkerFitzpatrick) with two project-specific Variable Density tunnel boring machines (Ø 10,240mm), which will bore two almost identical tunnel tubes parallel to each other: Florence and Cecilia.
The two machines, each with a weight of 2,000 tonnes and a length of 170 meters, are among the largest ever used in England. The two high-tech machines began tunnelling in May and July 2021 respectively.
The two TBMs were given their names by schoolchildren from the region: Florence was named after the nurse Florence Nightingale, who worked in Buckinghamshire for several years. Cecilia was named after the astronomer and astrophysicist Cecilia Payne-Gaposchkin, who was born in Buckinghamshire.
Assembly work is in full swing on the jobsite for a third Herrenknecht TBM (Variable Density TBM, Ø 9,920 mm), which is boring two 1.5 kilometer long tunnels under Long Itchington Wood, reached a first milestone in July 2022 with a successful breakthrough after the first tunnel. The contractor here, Balfour Beatty VINCI joint venture has ordered one more Variable Density TBM (Ø 8,560mm) at Herrenknecht for the Bromford Tunnel lot (2 x 5.7 kilometers).
Two Herrenknecht EPB Shields (Ø 9,820 mm) will be employed by the Skanska, Costain, STRABAG (SCS) joint venture to build the Northolt Tunnel West (2 x 7.9.kilometers) and two additional EPB Shields (Ø 9,080mm) for the Northold Tunnel East section (2 x 5.5 kilometers). For the 850m-long Atlas Road Logistics Tunnel Herrenknecht will deliver an EPB Shield with a diameter of 7,080 millimeters to the SCS Joint Venture. For the construction lot that connects HS2 to the Euston station two EPB Shields with diameters of 8,500 millimeters will be employed for 7.2 kilometers of tunnelling each.
Balfour Beatty VINCI Joint Venture
Pictures courtesy of HS2 Ltd