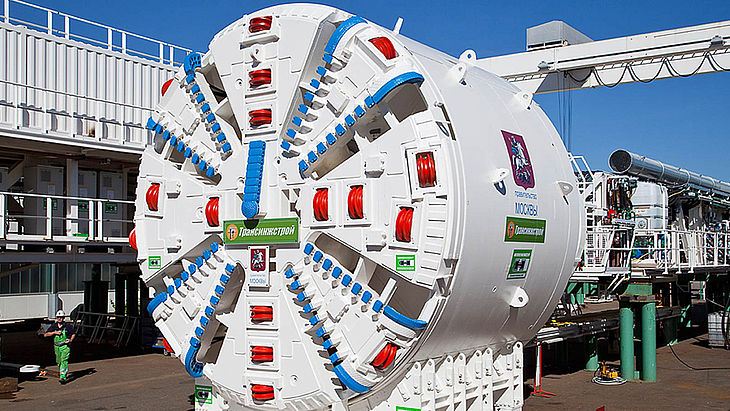 Moscow Metro
After some years of almost no investment in the extension of its metro network, Moscow's tunnel builders have switched back to "tunnelling". Last but not least, the awarding of the FIFA World Cup 2018 to Russia is moving planners and authorities to lastingly improve the efficiency of the public transport system.
For this mamoth task Herrenknecht delivered a total of nine EPB Shields or Mixshields between 2012 and 2015 to the Russian capital. In the following years, eight more EPB shields are added.
The first machine started its journey on the Lermontovsky Prospekt - Vykhino section in June 2012. Breakthrough was celebrated on November 6, 2012, after completion of 1,768 meters of tunnel with performances of up to 126 meters a week. For a 3.8km-long double-track tunnel section of the Kozhukhovskaya line Herrenknecht delivered an extra-large TBM giant with a diameter of 10.82 meters. After successful breakthrough in January 2018, it is immediately used for another tunnelling section of the Circle Line.
Herrenknecht is supporting the Russian customers with comprehensive service and specialist know-how as well as required spare and wear parts to re-employ machines that had been successfully used on other tunnelling sections. A total of approx. 101 kilometers of new metro tunnel has been or will be excavated by Herrenknecht machines since 2012.