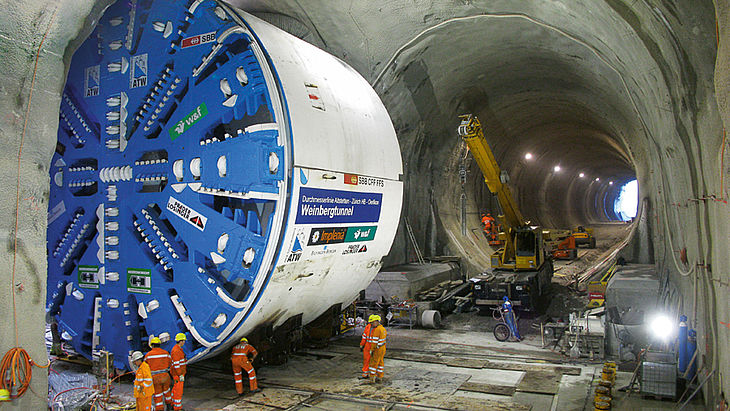 Weinberg Tunnel
Safely and efficiently under the city center
Zurich has been redefining itself continually since the end of the 20th century – as an open, lively metropolis with an international flair and offering a high quality of life. One of the most important infrastructure projects in Zurich is currently the so-called "Durchmesserlinie" (Diameter Line) – a dual-track railway connection through the city which also involved the construction of a very complex tunnel, an underground through station and the development of a new quarter around the central railway station.
This major "Durchmesserlinie" project will transform Zurich's terminal station into a through station. The convertible S-451 Mixshield known as "Belena" with a diameter of 11,240mm was employed on the Weinberg Tunnel section. This railway tunnel with two tracks in a single tunnel represented a particular challenge on account of its geology which features both molasse and unconsolidated rock.
A well-attuned team of experienced miners was working on the high-tech machine: In the hard-rock section segment rings (5+1 segments) were installed in less than 15 minutes and several hyperbaric interventions were carried out successfully along the groundwater-bearing section. After the conversion from open to closed mode, the shield machine bored its way toward Zurich Central Station beneath the Limmat River along the last 280 meters of the tunnel route. On November 22, 2010, the miners celebrated the successful breakthrough of the TBM in the target shaft.